Creating The Future Of Logistics Services
Hedgehog Increase Storage Capacity and Picking Efficiency with Bendi Articulated Forklift Trucks.
Hedgehog Group is the leading driving force behind promoting change in the traditional logistics industry. Founded in 2012 by corporate logistics veteran Richard Sparreboom and his technology partner Ed Richard, Hedgehog has been on a mission to challenge existing common logistics processes through the use of technology and add significant commercial and operational value to those businesses who want a fresh approach to their logistics and/or technology needs.
This fresh approach has certainly worked. The Hedgehog Group has grown considerably since 2012 and, as a result, threw up some real challenges, especially in the Distribution Centre according to Brenton.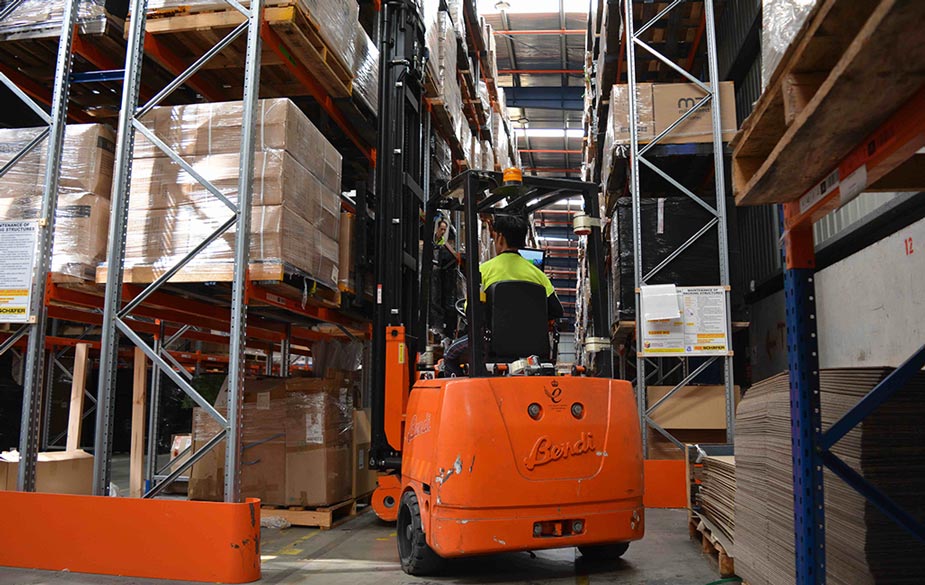 As the business grew so too did the challenges around the storage and accessibility of goods in the warehouse, In order to increase the number of pallets stored we originally went for a double deep racking system which gave us the capacity we needed, however the way we work with our customers means that we receive a specific product pick code from them which could have been a pallet in the rear position on the racks. The front pallet would first have to be removed and placed on to the floor in order to allow access to the back pallet. Once the back pallet is removed, the front pallet would then be replaced on to the racking which wasn't ideal in a fast throughput environment, and one of the main reasons why we decided to look at alternatives when we moved to our new premises.
New Facility
The new facility is a modern 7000m² warehouse in Derrimut which holds over 10,000 pallet positions in mainly narrow aisles. Very Narrow Aisle (VNA) machines were first considered as an option to replace the double deep reach trucks. However, these were soon discounted due to the limitations when handling different size loads and the added expense of guide rails. So, after an industry recommendation, a successful visit to a third party customer site and operational advice on layouts, 3 Bendi Articulated Forklifts were ordered.
"We have been really impressed with the Bendi forklifts," added Brenton. "The company who were in here before us barely managed to fit 5000 pallets into the whole building. We have over 6000 in only half of the building. We also have 100% immediate access to all of the pallets rather the 50% select ability we had with the double deep system. Additionally, we could have also reduced the aisles down further but as a busy 3PL business we went for slightly wider aisle to increase the speed of operation and minimise the risk of damage to the racking".
Bendi Articulated Forklift Role
With lift heights of 9m, the Bendi trucks mainly do full pallet picks and replenish. At the same time they can be feeding the small items picks which are done by hand pallet trucks. Large capacity batteries and high performance/heavy duty componentry ensure that the Bendi is powerful enough to perform over extended shifts or during Hedgehog's busiest periods.
Hedgehog have developed an innovative cross-platform WMS system that works seamlessly with a customer's own system. Using the portal, or by sending an email, the customers pick list is sent direct to iPads that have been fitted on to the Bendi trucks. The iPads also offer an effective means of communication, either by text or FaceTime, between the office and the operator.
Bendi articulated forklifts trucks combine the versatility and speed of a counterbalance, the high lifting capacity of a reach truck and the aisle performance of a VNA truck. Bendi's can load and unload vehicles in external yards and work comfortably in narrow aisles at heights of over 12m. Please contact our team for more information regarding our Bendi Articulated Forklifts here. Make sure to follow us over on our social media pages; Facebook, Twitter and LinkedIn.
We Know the  Best Solution…
We know that handling heavy loads in a confined space presents users with special challenges. Arrange a free consultation with our specialists to get the best possible solution for your application, contact us now.