Bill Parry passes management torch to Bruce Peatman
Anniversary at HUBTEX Australia: Since forming in 1995, the company, formerly known as Parry Forklifts, has been selling sideloaders, narrow aisle articulated forklifts, automated storage and picking systems plus energy solutions under the leadership of Bill Parry. Now after a quarter of a century, and in a move designed to secure the long-term future of the business, Parry will be handing over the reins to his long-term partner Bruce Peatman who will become CEO at the end of August. Also joining HUBTEX Australia as joint CEO will be Lars Beuel, who has worked closely with HUBTEX Australia from the factory in Fulda for 15 years. Both have extensive experience in sales and after-sales, thus ensuring that the HUBTEX Australia customers continue to receive the high quality of service they have become accustomed to.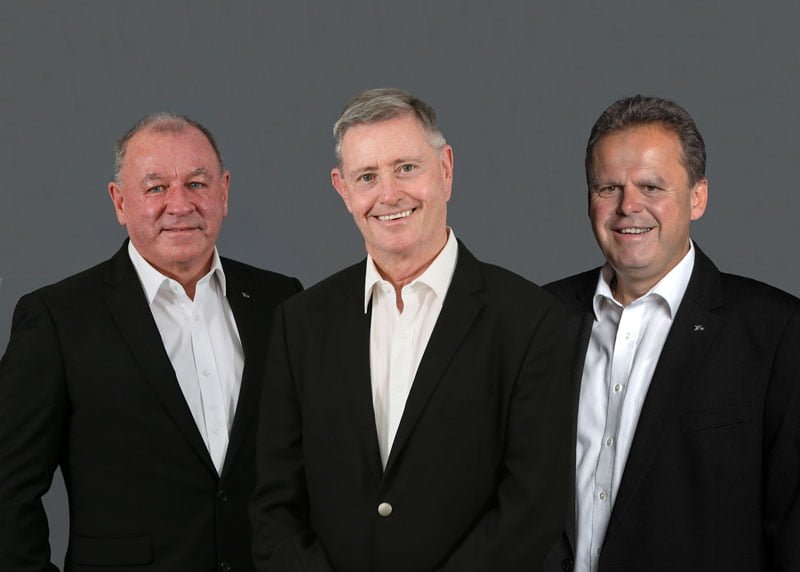 HUBTEX Australia offers tailor-made intralogistics solutions and is a distributor of world-leading brands, including HUBTEX multidirectional sideloaders, Bendi/Landoll narrow-aisle forklifts, Bulmor sideloaders, Hoppecke batteries and Systraplan storage and picking systems. Founded in 1995 as Parry Forklifts by the former CEO, Bill Parry, its initial purpose was solely the distribution of HUBTEX machines. After learning the ropes with a successful career in the conventional forklift sector, Parry recognised a niche in the Australian market for the handling of long loads. Since 2000, the company has been a distributor partner operating under its current name. With the nationwide growth of the company, including the expansion of the product range to include other brands, there has been continuous investment in further branches: In addition to its headquarters in Riverstone, near Sydney, the company now has its own service centres in the four state capitals of Brisbane, Melbourne, Adelaide and Perth, employing a total of 50 staff.
New team – consistent service quality
As of September, the management torch will be passed to the former General Manager Bruce Peatman, who, for the 25 years at Parry's side, was responsible for customer service and after-sales. In conjunction with the second CEO Lars Beuel, in a dual role as Sales Manager for Material Handling at the HUBTEX headquarters in Germany, he brings his many years of experience in the service and sales of HUBTEX solutions. With the ownership of the business transferring to HUBTEX, Bill Parry commented "I am very grateful to our loyal customers and the dedicated support of my team for the past 25 years, and I am now placing my life's work in the best and most experienced hands – my long-time colleague Bruce Peatman and to Lars Beuel, whom I have also known well for 15 years. We have gained an enviable reputation as Australia's leading long load and narrow aisle specialists and I am confident my successors will ensure that HUBTEX Australia continues to build long standing customer relationships through the highest levels of service. I will remain active in the business in sales, marketing and business development."
Each branch's portfolio includes its own comprehensive spare parts management, which guarantees low service response times and short distances to the customer. Local coordinators take care of the local servicing and breakdown service. To ensure fast operations, a large fleet of around 700 pre-owned and rental vehicles is available; in addition, a series of rental trucks also offer support. What is certain: HUBTEX Australia will continue to offer Australian customers long-term investment security and optimal advice for individual application scenarios.