To become the nation's leading long load and narrow aisle forklift specialist, HUBTEX Australia has mixed top service with innovative space-saving products.
For over 20 years, HUBTEX Australia has been delivering tailor-made solutions to the timber industry as distributors for the world-class range of HUBTEX Multidirectional, Sideloader and Order Picking Forklifts. HUBTEX products are ideally suited for the handling of long, bulky and difficult loads, and come with the build quality, specification and reliability the industry has come to expect of a German manufacturer.
The business was formed in 1995 by the current Managing Director Bill Parry. After a successful career in the mainstream materials handling industry, Parry saw a niche in the market for a company to specialise in the handling of long loads.
Right from the outset, Parry recognised the need to have the very best people within the business and was delighted when Bruce Peatman, Wayne Guillaumier and Phil Deka agreed to join. All three have played a huge part in the success of HUBTEX Australia with Peatman as General Manager, Guillaumier as Technical Manager and Deka as National Service Manager.
The first Sideloader delivered was at Hardware and General, one of Sydney's leading independent suppliers of timber, hardware, building and plumbing supplies. The truck, a HUBTEX MQ 40 was purpose-built to work in H&G's first narrow aisle timber store and 22 years later it's still in operation today [see upcoming story in April 2018 Timber Trade News].
Head Office in Riverstone NSW is on a 3,700m2 site, complete with state-of-the-art workshop for new trucks and rebuilds, a large parts department and extensive hire fleet. As the business grew nationally, so too did the investment in further branches, and there are now company-owned strategic service centres in each mainland capital city. Each branch is fully equipped to deal with all aspects of local service and breakdown cover, including service coordinators, comprehensive spare parts holding and a range of casual hire trucks for added piece of mind and additional support when required.
Unrivalled Service Support
Specialist service support explains Parry, is of paramount importance when it comes to long load and narrow aisle applications, and has been the cornerstone of the company's philosophy.
"Saving space and creating innovative handling solutions can have huge operational and cost benefits," Parry says, "but it can also come at a price, namely that your business can come to rely on the uptime of your materials handling equipment. For example, if a specialist narrow aisle machine breaks down in the aisle or if it needs a regular service, then unless you have additional machines, you cannot simply revert back to a conventional forklift. That is the reason we made the decision to specialise in the sector rather than simply offering multidirectional and narrow aisle machines as part of the wider portfolio of equipment offered by other forklift companies.
"All of our service engineers are trained to the highest standard, both here in Australia and at the HUBTEX factory in Germany. Operating from a fleet of modern service vehicles, each with spare parts tailored to suit the locality and state-of-the-art diagnostic equipment, we can guarantee industry-leading first-time fix rates; we couldn't however if our technicians were also looking after other standard equipment such as counterbalance forklifts, reach trucks and pedestrian equipment," concludes Parry.
Planning Assistance
The services offered extend beyond support. For company managers who are planning a new warehouse, or making the decision to move to narrow aisle storage from more conventional methods, the complexities and options can at times be daunting.
HUBTEX Australia has a national team of space-saving experts that are available to offer advice on warehouse planning, site layout diagrams and storage capacity calculations. Demonstrations of the HUBTEX products can be arranged either on-site or at a third party reference site.
Armed with both technical specifications and real-world experience of the product, prospective clients are able to make better choices about which systems will help them maximise their warehouse storage.
Technically Superior
Many years of experience working with the timber industry has given HUBTEX Australia an in-depth understanding of the detailed requirements and solutions for the handling of products in different applications from wholesalers, sawmills and wood-processing companies to kitchen and door manufacturers.
To compliment the range of 2-Way Sideloaders, Multidirectional Forklifts and Order Pickers, HUBTEX has recently launched The FluX, which is an industry first.
The FluX Multidirectional Counterbalance Forklift has been designed to be used as both a conventional front-loading forklift as well as a sideloader and is especially suited to transporting standard type pallets and long loads. This makes it ideal for DIY stores and other applications where confined spaces are the norm.
Thanks to the unique steering system installed as standard, unlike other existing trucks, the FluX doesn't need to stop to switch from travelling forwards to sideways, therefore saving a substantial amount of travel time and further streamlining materials handling operations.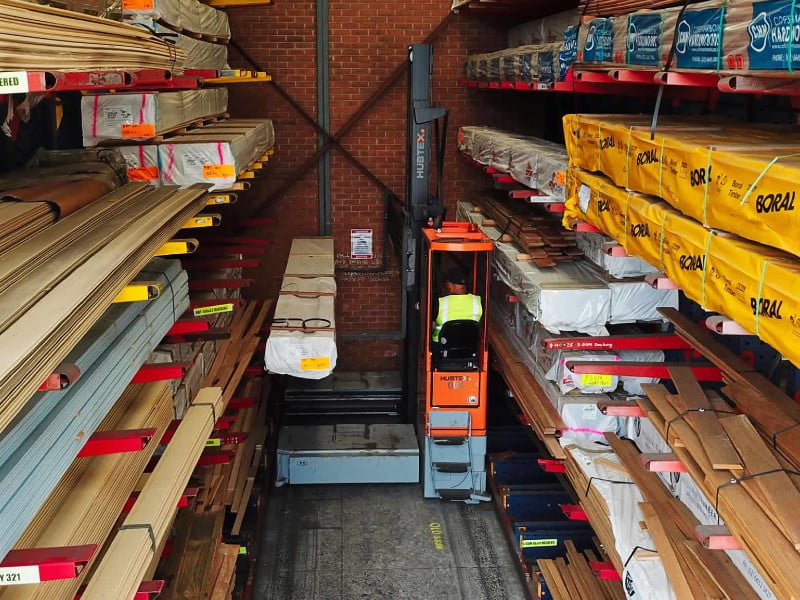 People Make The Difference
"We are in a great position whereby we can offer our clients innovative space-saving solutions and industry-leading products, but it's our people who ultimately make the difference," concludes Parry.
"We invest heavily in acquiring the right people and in their ongoing training and development. It is the skill, passion and commitment that has seen us become Australia's leading long load and narrow aisle specialist."